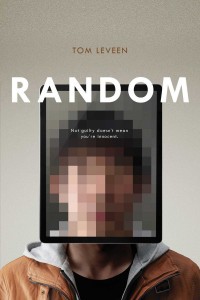 Not Guilty doesn't mean you're innocent.
RANDOM
an original stage play
adapted by the author
about the story: "Sixteen-year-old Tori stands accused of cyberbullying in a hate crime case that has gained nationwide attention. Her brother is not talking to her, her friends are avoiding her, and reporters are showing the world the cruel Facebook posts she had written that spurred her friend's suicide. On the eve of her trial, Tori receives a call from a mysterious teen who claims to have "randomly" called her number, hoping for someone to talk him out of suicide, Tori now has a chance to redeem herself by connecting with this distraught stranger and convincing him that he has reason to live.This quick, suspenseful novel will hook readers through the final page. The caller seems to constantly be on the verge of suicide, and keeping him alive depends solely on whether Tori can show compassion for someone experiencing deep inner turmoil. Tori is a frustratingly flawed protagonist; she makes excuses for her behavior, deflects blame onto others, and demonstrates very little self-awareness. Some readers may find Tori off-putting or discouraging, while others may appreciate the honesty of this unforgiving portrait." ~ VOYA, August 2014
If your school or group is interested in staging a version of Tom Leveen's novel Random, a full-length script is available to read. Below is a free sample to download.
For information on production and royalties, please email info@tomleveen.com.