To request a school or library visit, booktalk, class, or other appearance, please email tom <(at)> tomleveen <(dot)> com
You can also tweet Tom @tomleveen, or leave a message on his Facebook page.
---
---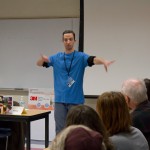 With more than twenty years of live theatre experience as an actor and director prior to his debut young adult novel, author Tom Leveen consistently receives rave reviews for his booktalks, classes, keynotes, and panels. 
"Tom Leveen's presentation to my Creative Writing class was informative, inspirational, and entertaining.  His energy was contagious, and my students are still talking about him and his words of wisdom.  He has set the bar extremely high for other visiting authors!" ~ Ms. Moore, Creative Writing teacher
"Tom Leveen is one of the best authors I have ever met! He was funny and full of energy. He was awesome and he really taught me a few things that I will be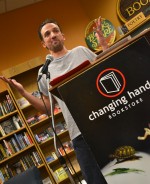 sure to remember when I write a story. My experience was great. Also, his book Party was amazing. Thank you, Tom Leveen!" ~ Parker, sophomore student
 Say Words!
Tom has spoken and/or taught classes and/or been on professional panels for the following organizations: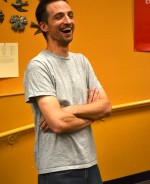 Society of Children's Book Writers and Illustrators (SCBWI)

Romance Writers of America (RWA)

Phoenix ComiCon

Tucson Festival of Books

Arizona State University Rl Txt (ASU)

Dia de los Ninos

People of Color Network

Free Arts of Arizona

YAllapalooza

Kennesaw State University (KSU)

Western New Mexico University (WNMU)

Arizona Reading Association (ARA)

National Council for Teachers of English (NCTE)

Arizona English  Teachers Association (AETA)

Scottsdale Public Library System

Maricopa County Library System

Phoenix College

Los Angeles Teen Book Fest

Arizona Thespian Festival

Vegas Valley Book Festival

Arizona Library Association (AzLA)

and dozens of schools, grades 1 through 12, throughout the Phoenix metropolitan area
Additionally, Tom has:
been Artistic Director for an both independent theatre company, and a mixed-use arts venue: Is What It Is Theatre in Phoenix for 12 seasons, and Chyro Arts Venue in Scottsdale for three. Both non-profits were awarded Best of Phoenix honors from the Phoenix New Times, in addition to multiple awards and nominations from the Scottsdale Tribune and the AriZoni Theatre Awards

attended five sessions of classical training from the Utah Shakespeare Festival Actor Training program

22 years of experience as an award-winning theatre actor and director
been recognized by the Phoenix New Times for their annual "Big Brain Award" in the Performing Arts Category
been awarded Best YA Author by the Phoenix New Times
been awarded Best New Local Author 2012 by Phoenix Magazine
been a nominee for the Governor's Arts Award in 2001 in the Artist category

taught acting classes for a number of local schools (from kindergarten to adult)

worked at a college library for one year and in a public library for five

worked professionally as a writer and editor for both the web and print; for trade, non-profit, and consumer publications.