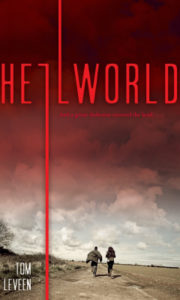 FREE WRITING CLASS: PUBLISHING PITFALLS – What Are They & How Do You Avoid Them?
Monday, March 20, 2017
630pm
WHERE?
Changing Hands Bookstore
Phoenix, AZ
After almost a decade in the industry and nine novels with imprints at Random House and others, author Tom Leveen has a rap sheet of mighty highs and grievous lows. With just a little bit of warning, he could have avoided the worst parts…and so can you. In this class for writers of all genres and abilities, Tom will walk you through some of the many things that no one is telling you about the publishing world, traditional or indie. Part craft, part business, and all true, this free event is in support of Tom's ninth novel. Bring a notepad or laptop for a whole lotta notes!
---
HELLWORLD BOOKTALK & SIGNING
Tuesday, March 21, 2017
7pm
WHERE?
Changing Hands Bookstore
Tempe, AZ
---
FREE MOVIE SCREENING: PSYCHO
Wednesday, March 22, 2017
7pm
WHERE?
Harkins Theaters, Shea
ORDER TICKETS HERE! FIRST COME-FIRST SERVED!
http://www.brownpapertickets.com/event/2871985
Psycho presented by Intl Horror and Sci-Fi Film Fest and Hellworld author Tom Leveen.
"Best of Phoenix" local author Tom Leveen partners with the International Horror and Sci-Fi Film Festival to bring a free screening of Alfred Hitchcock's PSYCHO to Harkins Shea 14 Theatre! The screening is being held in conjunction with the launch of Leveen's eighth novel, HELLWORLD, about a girl who opens a portal to a hellish dimension that unleashes Lovecraftian beasts on Earth.
A short discussion of horror in film and fiction as well as a Q&A with Leveen and International Horror and Sci-Fi Festival Director, Monte Yazzie will kick off the event. Changing Hands Bookstore will be onsite for an author signing. Register your seat now, space is limited for this one-time event!
The International Horror and Sci-Fi Film Festival will be held as part of the Phoenix Film Festival, April 6 to 13 at the Harkins Scottsdale 101 Theatre. You can find more information at HorrorSciFi.com

---
HELLWORLD BOOKTALK & SIGNING
Friday, March 24, 2017
7pm
http://www.mystgalaxy.com/event/tom-leveen-signs-san-diego
WHERE?
Mysterious Galaxy
San Diego, CA
---
LIT OUT LOUD: Classic & Original short horror story performances, with HELLWORLD signing
Monday, March 27, 2017
7 pm
WHERE?
Poisoned Pen Bookstore
Scottsdale, AZ
Join Poisoned Pen for its first ever LIT OUT LOUD event and publication party for Tom Leveen's newest book!
Author Tom Leveen is also a 22-year veteran of local theatre, having been the artistic director of both Is What Is Theatre and Chyro Arts Venue. For one night only, in celebration of the release of his newest novel HELLWORLD, Tom brings together a group of local actors he's worked with before and will present a live performance showcase of short horror stories, both classical and original. And maybe, if we're lucky (unlucky?) enough, Tom will also read one of his first stories, written in 1988, and hold it up for public mockery! It's a an hour of both chills and laughs suitable for people over 13. Don't miss it!
---
FREE WRITING CLASS: START (OR FINISH) YOUR STORY!
Wednesday, March 29, 2017
6:00 pm
WHERE?
Barnes & Noble Desert Ridge
Phoenix, AZ
Novelist and writing mentor Tom Leveen takes you through some practical, no-fluff advice on writing creatively in any genre. Whether you've just toyed with writing a novel or have something ready to submit to publishers or publish yourself, this free class can help you reach your creative writing goals! Tom has books out with Random House and Simon & Schuster, and has years of experience with writing students of all ages and experience levels.