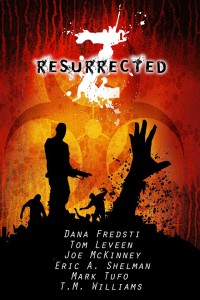 In this anthology, six horror authors revisit some of their most infamous zombie characters, resurrecting the undead. Contributing authors to Z Resurrected are some of horror's best, who have each carved a distinct path in the world of zombies: Dana Fredsti, Tom Leveen, Joe McKinney, Eric A. Shelman, Mark Tufo, and T.M. Williams.
In Sick, Brian and his friends are not part of the cool crowd. They're the misfits and wily troublemakers—the ones who jump their high school's fence to skip class regularly. So when a deadly virus breaks out, they're the only ones with a chance of surviving.
The virus turns Brian's classmates and teachers into bloodthirsty attackers who don't die easily. The whole school goes on lockdown, but Brian and his best friend, Chad, are safe (and stuck) in the theater department—far from Brian's sister and his ex-girlfriend with a panic attack problem. Brian and Chad, along with some of the theater kids Brian had never given the time of day before, decide to find the girls and bring them to the safety of the theater. But it won't be easy, and it will test everything they thought they knew about themselves and their classmates.
In Z Resurrected, Brian's girlfriend, Laura, is likewise trapped. She and another student she's never met must find their way to the nurse's office to treat his bite wound, only to learn how quickly the virus turns people into maniacs. On her own and dealing with a severe panic disorder, Laura must find a way to survive until help arrives . . . if help arrives at all.
Available now at Amazon.com in paperback or Kindle.