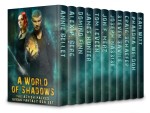 A World of Shadows: The Action-Packed Urban Fantasy Box Set features eleven books from some of today's New York Times, USA Today, and Amazon best-selling urban fantasy authors with more than 1 million in combined sales!
These 11 first-in-series books introduce you to new worlds and deliver kick-ass stories with more action than an MMA fight. Featuring eleven heroes and heroines – PIs, cops, mages, witches, wizards, elite units, shapeshifters, and more – not to mention more monsters and villainous horror shows than you can shake a stick at!
Books in this bundle include:
Justice Calling by Annie Bellet (Twenty-Sided Sorceress series)

Red Hot Steele by Alex P. Berg (Daggers & Steele Mystery series)
The Seventh Sons by Domino Finn (Sycamore Moon series)
Flashback: Siren Song by James A. Hunter (Yancy Lazarus series)
Till the Sun Breaks Down by Tom Leveen (Deviant Aeon series)
The Fixer by Jon F. Merz (Lawson Vampire series)
The Heretic by Joseph Nassise (Templar Chronicles series)
London Macabre by Steven Savile (Greyfriars series)
The Long Way Down by Craig Schaefer (Daniel Faust series)
Elemental Arcane by Phaedra Weldon (Eldritch Files series)
Half-Made Girls by Sam Witt (Pitchfork County series)
Order now!